Dr. Richard Splane Lecture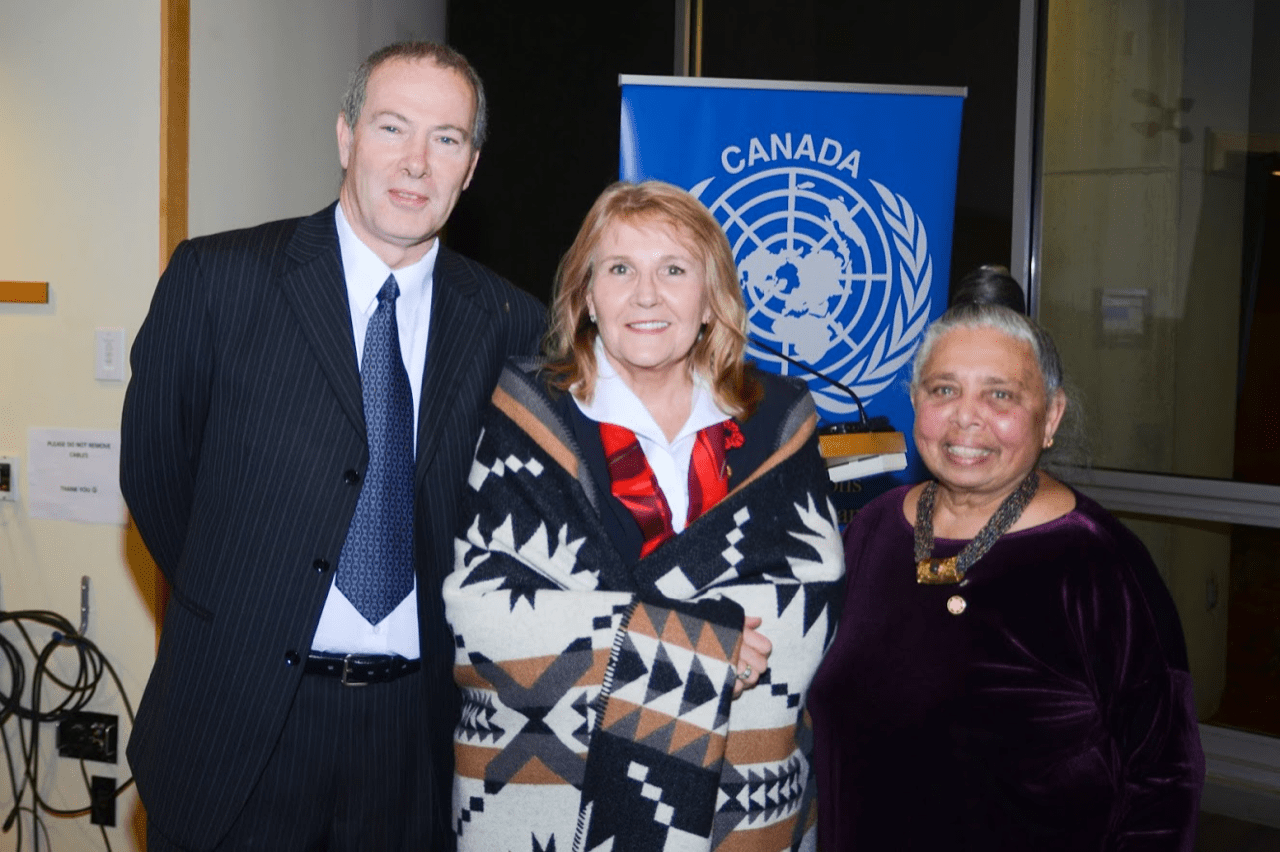 UNAC-Vancouver co-hosts the annual Dr. Richard Splane Lecture with the UBC School of Social Work and the UBC School of Public Policy and Global Affairs. Organized in March of each year, a speaker is invited to deliver a presentation on important matters related to Canadian society and global agendas. Discussion topics can range from poverty, social policies, gender equality, and the environment to education and justice. 
The event aims to raise awareness about a particular policy issue with in-depth consideration taken of the broader consequences for poverty and inequality, health, education, and social stability. These issues are analyzed through the theme of 'Leave No One Behind', which connects to social justice within the framework of the SDGs.
The lecture engages the audience in a lively discussion stemming from questions arising from a number of well-informed attendees.
Think Global, Link Local (TGLL)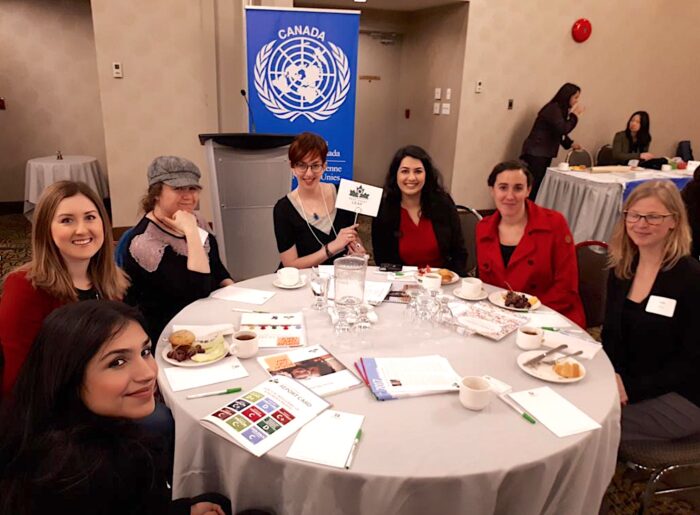 Think Global, Link Local (TGLL) is a networking event started in 2013 and organized by UNAC-Vancouver in collaboration with Kwantlen Polytechnic University (KPU). This annual networking event held in March brings together 150+ recent graduates to network with up to 20 non-profit socially active organizations having an international focus. Keynote speakers have been drawn from a wide range of notable Canadian social activists. 
 The goals of TGLL are twofold: 1) to increase opportunities for Vancouver youth to learn from the experiences of leaders within the non-profit sector, public sector, and former UN staff; and 2) to discover more about careers with various non-profit organizations, as well as the UN's international scope. TGLL allows young people to develop an understanding of the kinds of careers that are available either within Canada or internationally.  
One of the most popular raffle prizes for the Think Global Link Local event is a follow-up coffee and dialogue session with members of the UNAC-Vancouver Executive Board who have had careers with the UN or other socially active organizations. Winners meet and talk with a UNAC-V board member to learn directly from their professional experiences. 

World Oceans Day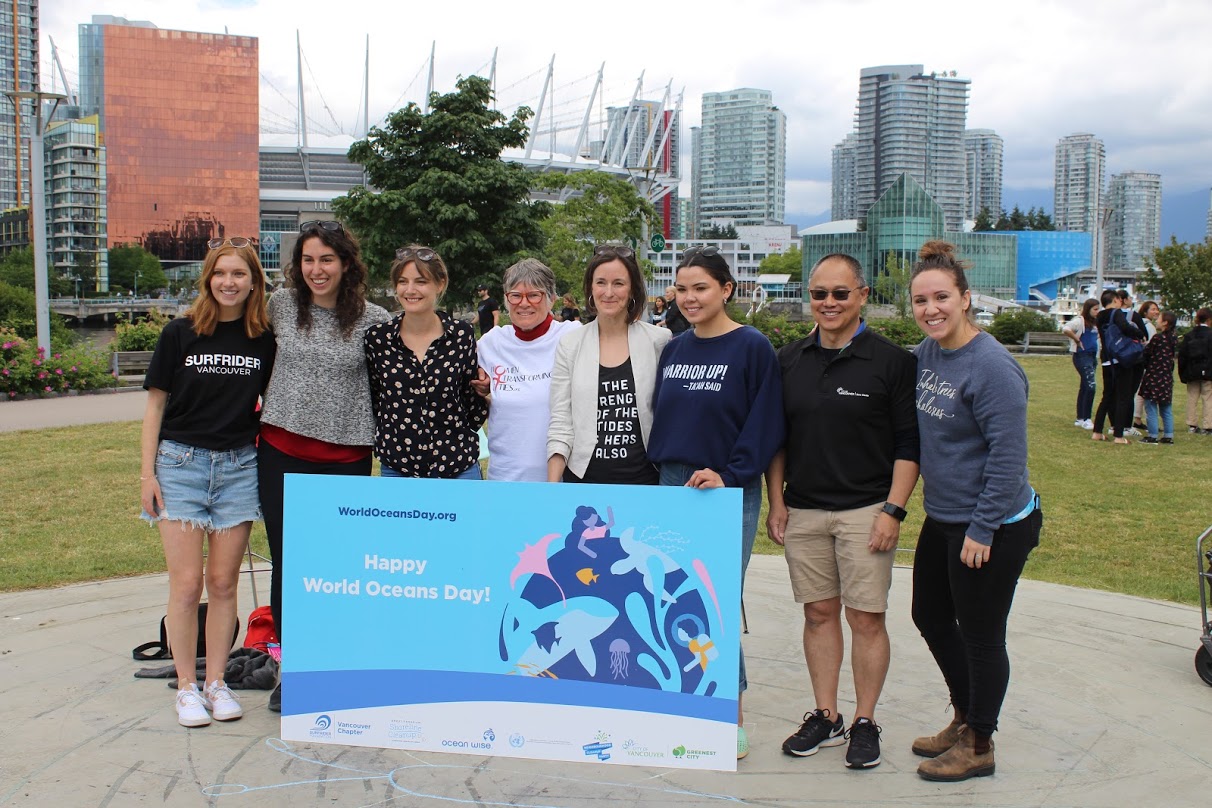 Since 2018, UNAC-V has partnered annually with the City of Vancouver, the Great Canadian Shoreline Cleanup, Ocean Wise Conservation Association, and Surfrider Vancouver to host a World Oceans Day Celebration at the Plaza of Nations. This annual event, taking place each June, includes an outdoor discussion panel, a shoreline cleanup and educational fair. This ongoing collaboration aims to expand awareness about environmental issues related to water, air, and land pollution. 
 The previous outdoor panel theme was "Preventing Plastic Pollution and Encouraging Solutions for a Healthy Ocean" and included a broad group of experts including Peter Ross (Ocean Wise), Brianne Miller (Nada), Carleen Thomas (Tsleil-Waututh Nation), Shaun Frankson (Plastic Bank) and Kate Le Souef (GCSC). The educational fair brought together over 15 NGOs and local government groups who are working together to protect and improve our oceans. The Shoreline Cleanup resulted in over 190 pounds of garbage being removed from our shorelines! 
International Day of Peace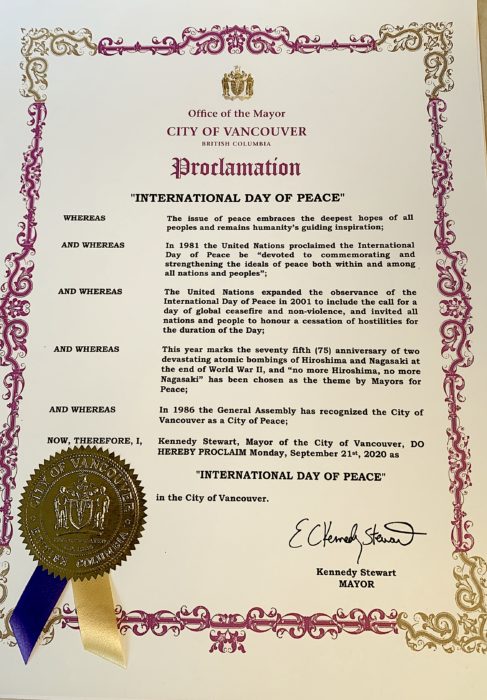 UNAC-Vancouver has developed an ongoing relationship with the City of Vancouver to celebrate the International Day of Peace. On 21st September every year, the Day of Peace commemorates the atomic bombing of the Japanese cities of Hiroshima and Nagasaki in 1945. In September 2020, the City of Vancouver issued a proclamation in honor of this day. The global theme for 2020 was "No More Hiroshima, No More Nagasaki" in recognition of the 75th anniversary of the destruction of both cities.
UNAC Vancouver also collaborates with the City Planning, Urban Design and Sustainability Division and Vancouver City Planning Commission (VCPC), with whom we are aiming to incorporate both a youth-based perspective and the Sustainable Development Goals (SDGs) into the Vancouver Long-Range Plan (known as "The Vancouver We Want, the City We Need").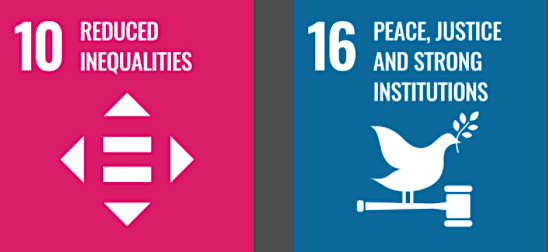 Model United Nations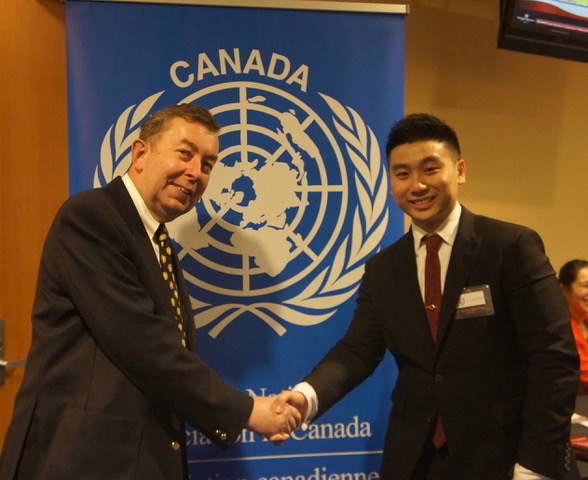 The city of Vancouver is home to a number of Model United Nations conferences (MUNs). These conferences are particularly popular throughout North America providing a unique simulated experience of world diplomacy, inspiring their student delegates to become more aware, more educated, and more thoughtful global citizens
In the last decade, UNAC-Vancouver has provided support to the Canadian High Schools Model UN (CAHSMUN) as well as the Canadian International Model UN (CAIMUN). As a non-profit, UNAC V supports MUNs with small cash bursaries allowing students to attend who might not otherwise attend for financial reasons.  UNAC Vancouver has also provided keynote speakers and event closing speakers with the aim of inspiring the student attendees to think about humanitarian or social activism and to view the UN or its Agencies as a possible career choice. 
UNAC-Vancouver also occasionally provides speakers at high schools across the Lower Mainland of BC, since the BC Grade 10 and 11 curriculum includes Canada's relationship with the UN since its founding in 1945. As well as speaking about the life of a Canadian civilian peacekeeper or humanitarian worker, topics also include why the UN is important to Canada and why Canada is important to the UN, for example taking the political lead in the 1997 Ottawa Convention banning the use of anti-personnel landmines. 
DOXA Film Festival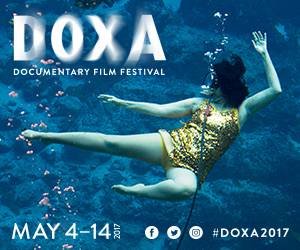 UNAC Vancouver has also sponsored the showing of several films focused on themes about human rights at the DOXA Film Festival. The festival takes place each May. UNAC-Vancouver Board members participate in panel discussions, presentations and ensure responses to questions from the audience.
The sponsored documentary in 2018 was "The Cleaners," set in the Philippines and telling the story of young students in Manila hired by Facebook to "clean" or remove violent, pornographic, or otherwise unsuitable material from Facebook pages. The students are traumatized both by the violence they see on FB as well as by the political and drug-fuelled killings on the streets of Manila which they witness as they commute to and from their FB work.
Apart from DOXA festival, UNAC-Vancouver supports awareness-raising activities through the showing of movies produced by a variety of artists, inspired by issues of the society today such as the environment, justice refugees, and indigenous relations.

Rosemary Brown Award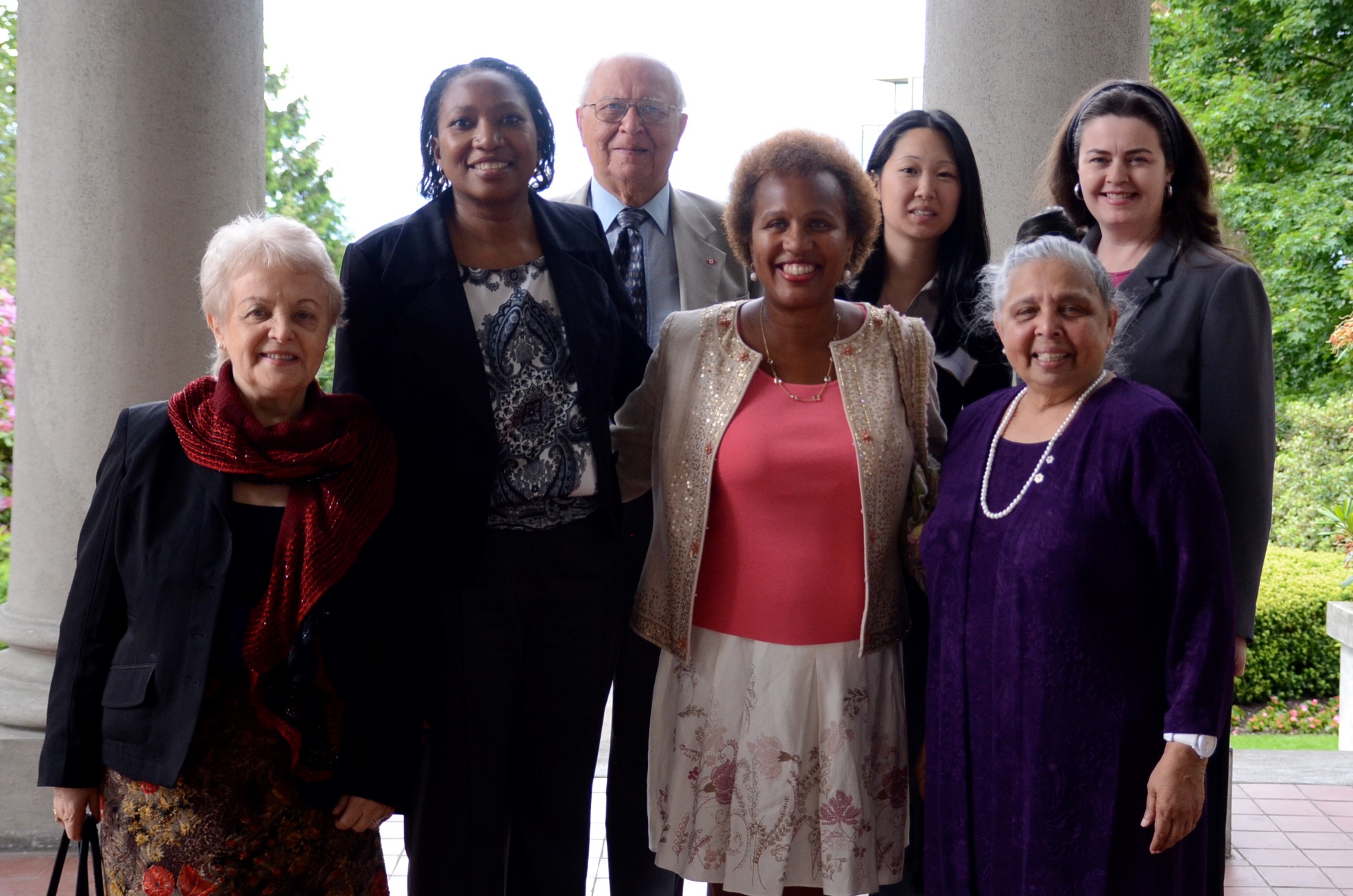 The Rosemary Brown Award marked on the International Day of Peace – September 21- is an annual memorial to the life and work of the late Rosemary Brown, a tireless advocate of women's equality.  Since 2005, the award has been presented to a BC woman, a women's group, or a BC organization that has made an outstanding contribution in promoting the values and ideals that Rosemary Brown championed throughout her lifetime. 
This event is sponsored by the Rosemary Brown Award partners, which, as well as UNAC-V, include: BCFED, University Women's Club, National Congress of Black Women, Society for Children and Youth of BC, and the BC Association of Social Workers. 
As a part of the Award in Rosemary's name, UNAC-V has supported an annual conference since 2015. The goal of the conference is to bring academics, students, service providers, and the local community together to speak on issues of diversity, ongoing inequalities facing women and children, human rights, women in the workforce, political activism, women in politics, social justice and community activism, all within the context of finding solutions and bringing about positive change. 

John Gibbard Memorial Award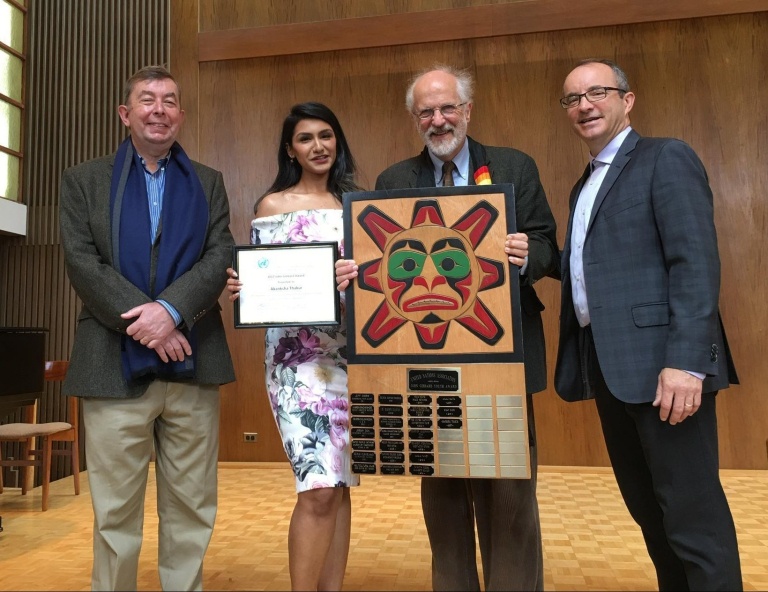 In honor of UN Day celebrated each year on October 24th, UNAC-Vancouver and the Unitarian Church of Vancouver jointly organize the John Gibbard Memorial Award. This award is given in recognition and memory of the late John Gibbard, who was a supporter of the predecessor of the UN – the League of Nations which existed from 1919 to 1942. In late 1945, the League was replaced by the United Nations and John Gibbard became a strong supporter of the UN Association in Canada joining UNAC in 1947. 
The award in his name is given annually to an individual (youth or senior) or group in recognition of their dedication and commitment to working for humanity and towards a better world. The most recent award recipients include: the Douglas College Nursing Students Homeless Outreach Project (2020), Ms. Shawna Narayan (2019), Mr. Andrew Sheroubi (2018), and Ms. Akanksha Thakur (2017).
Renate Shearer Award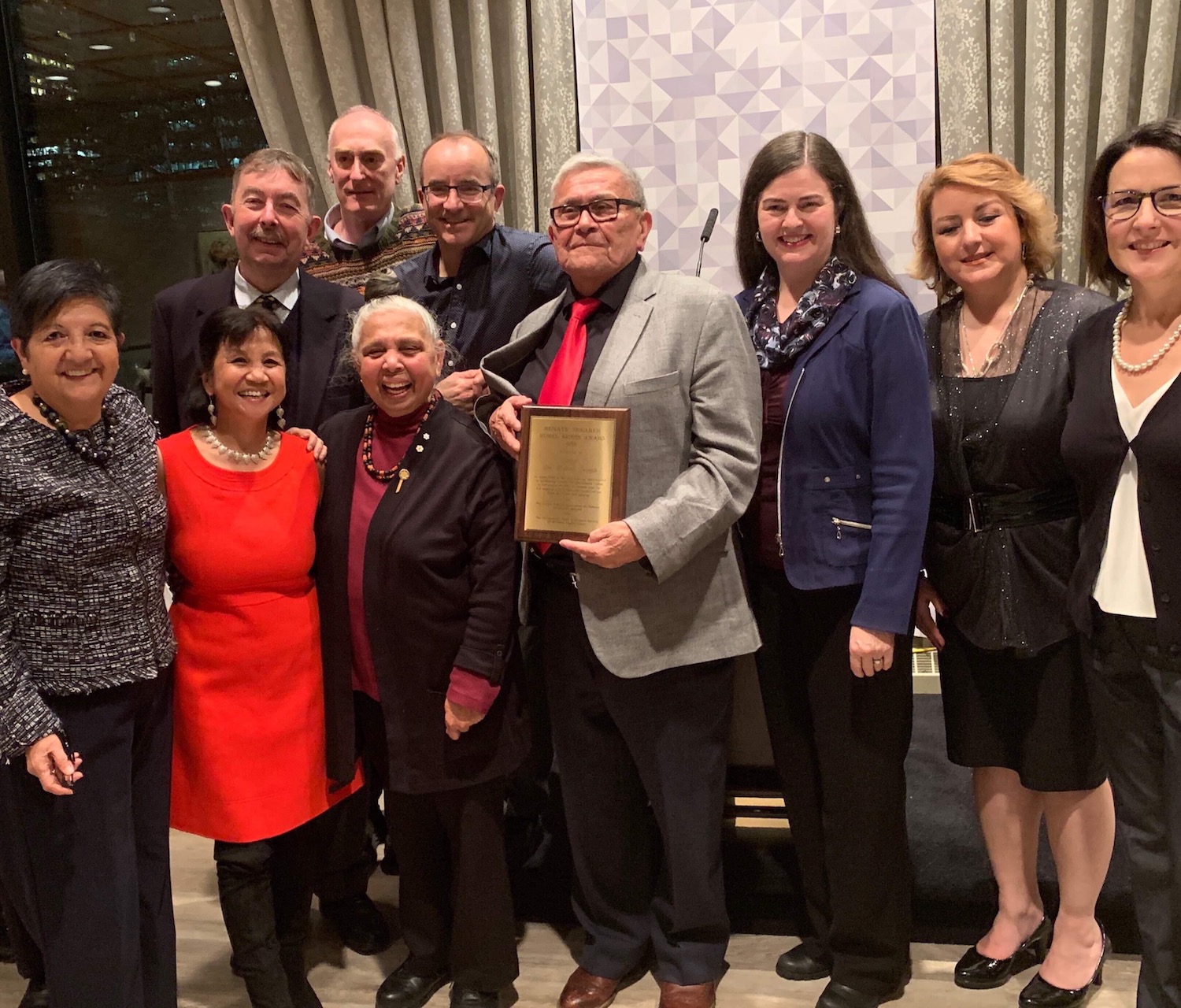 UNAC-V, in partnership with the Community Legal Assistance Society (CLAS), celebrates International Human Rights Day
(the anniversary of the signing of the Universal Declaration of Human Rights) on December 10th each year. The Renate Shearer Award is presented to an individual or organization making a difference in both local and global human rights issues. The event aims to promote and raise awareness about the contributions that Canadians have developed towards advancing human rights for all. 
This award is a memorial to the life and work of Renate Shearer who was a champion of equality and dignity for all. She was a social planner and human rights activist who was active in the City of Vancouver in the 1970s. 
The 2020 Renate Shearer Award was won by the Hon. Justice Douglas Campbell (ret).